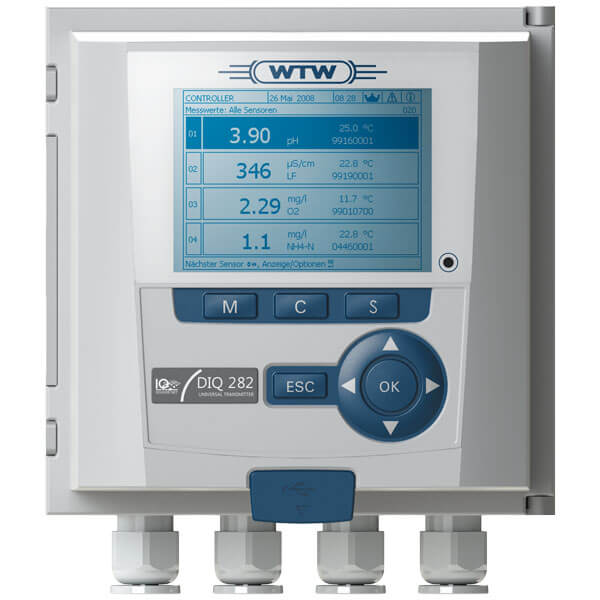 DIQ/S 284 - Controller for the IQ SENSOR NET
Digital system to monitor wastewater treatment plants, with up to 4 sensors
Controller for small and mid-sized wastewater treatment plants including USB-interface and internal data logger– up to 4 sensors, all parameters, available anytime:
The new controller DIQ/S 284 is available with different output signals. Besides the reagent-free measurement of COD, all other parameters needed for a wastewater treatment plant can be measured. By the combination of multi-parameter sensors, up to 20 parameters can be measured and displayed simultaneously.
All versions include an USB-interface and an internal data logger by default. Thereby, your valuable data and system configurations can be stored quickly and easily. Stay up-to-date with our free of charge software updates and improve your controller for upcoming measurement tasks. Via the connection to the internet you can access your IQ SENSOR NET anytime and anywhere. Monitoring and support from remote saves time, money and nerves. Via the RS 485- and Ethernet- interfaces, the fieldbuses PROFIBUS, Modbus RTU, Ethernet/IP, Modbus TCP and PROFINET are available. The DIQ/S 284 is compatible with almost all currently available components of the IQ SENSOR NET.
Systems Controllers comparison – 181, 282, 284 and 2020
System 181
System 282
System 284
System 2020
Max. Number of connectable sensors
1
2
4
8
Max. Number of parallel measured parameters
1*
20**
20**
20**
Output Signals

Analogue:
2 Analogue outputs,
3 Relays

Digital: None

Analogue:
Analogue outputs
(0/4-20mA), Relays

Digital:
– RS 485
FIELDBUSSES:
– Profibus DP
– Modbus RTU
– EtherNet/IP
– Modbus TCP
– PROFINET

(digital and fieldbus parallel to analogue possible)

Knowledge of special automation technology
required
Basically none
Bascially none,
In PROFIBUS/Modbus systems yes
Additional Options
Additional displays
No
No
No
Yes
Redundant controller
No
No
No
Yes
Datalogger
No
Yes
Yes
Yes
Modem-capable Interface
(Fixed line Telephone)
No
No
No
Yes
Alarms and measured values
– MIQ/TC 2020 3G: via SMS and web browser
– MIQ/MC3 family: vie e-mail and web browser
Radio Connection
No
Yes
Yes
Yes
Features
Specifications
Documents
Features
All parameters available (O2, NH4, NO3, COD, PO4, sludge level, …)
USB-interface and internal data logger by default
Convenient and available anytime via Ethernet-interface
Specifications
Documents