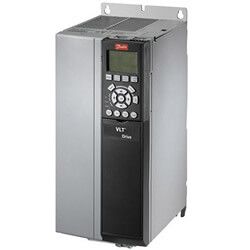 The Danfoss VLT® FC 302 Automation Drive
Danfoss VLT® FC300 series Automation Drive is dedicated to industrial automation applications such as industrial machines and production lines.
The VLT® Automation Drive represents a single drive concept that controls the entire range of operations from ordinary to servo like applications on any machine or production line.The modular open-technology platform, on which the VLT® AutomationDrive is built, makes it exceptionally adaptable and programmable.
The VLT® FC300 AutomationDrive series offers intelligent plug-and-play technology and unmatched reliability making drive operation pure childs play.
The full range of Danfoss VLT® Drives can be viewed here.
Features
The VLT® Automation Drive comes with the following features and benefits specific for industrial applications.
Enclosures IP20 to IP66
Up to 160% constant starting torque
Automatic Motor Adaptation, AMA
Automatic Energy Optimization
Energy monitoring
SmartStart
Quick Menu
Free programmable infos, warnings and alerts
Quick Menu

Motor Alternation

Initial/Final Ramp

Safety Option – Safe Stop category 3 installations according to EN 954-1 (Standard)

Designed to support Synchronizes and positioning options
Specifications
Mains supply (L1, L2, L3)
Supply voltage: 200 – 240 V ±10%, FC 301: 380 – 480 V ±10%, FC 302: 380 – 500 V ±10%, 525 – 600 V ±10%, 525 – 690 V ±10%
Supply frequency 50/60 Hz
True Power Factor (λ) 0.92 nominal at rated load
Displacement Power Factor (cos φ) near unity (> 0.98)
Switching on input supply L1, L2, L3 Maximum 2 times/min.
Output data (U, V, W)
Output voltage 0–100% of supply voltage
Output frequency: FC 301: 0.2 – 1000 Hz (0.25 – 75 kW) / FC 302: 0 – 1000 Hz (0.25 – 75 kW), 0 – 800 Hz (90 – 1200 kW), 0 – 300 Hz (Flux mode)
Switching on output Unlimited
Ramp times 1–3600 sec.
Note: 160% current can be provided for 1 minute. Higher overload rating is achieved by oversizing the drive.
Digital inputs
Programmable digital inputs FC 301: 4 (5) / FC 302: 4 (6)
Logic PNP or NPN
Voltage level 0–24 VDC
Note: One/two digital inputs can be programmed as digital output for FC 301/FC 302.
Analogue input
Analogue inputs 2
Modes Voltage or current
Voltage level – FC 301: 0 to +10 V, FC 302: -10 to +10 V (scaleable)
Current level 0/4 to 20 mA (scaleable)
Pulse/encoder inputs
Programmable pulse/encoder inputs FC 301: 1 / FC 302: 2
Voltage level 0 – 24 V DC (PNP positive logic)
Digital output*
Programmable digital/pulse outputs FC 301: 1 / FC 302: 2
Voltage level at digital/frequency output 0 – 24 V
Analogue output*
Programmable analogue outputs 1
Current range 0/4–20 mA
Relay outputs*
Programmable relay outputs FC 301: 1 / FC 302: 2
Cable lengths
Max. motor cable lengths
FC 301: 50 m / FC 302: 150 (screened/armoured)
FC 301: 75 m / FC 302: 300 m (unscreened/unarmoured)
*More analogue and digital outputs can be added by options
Documents