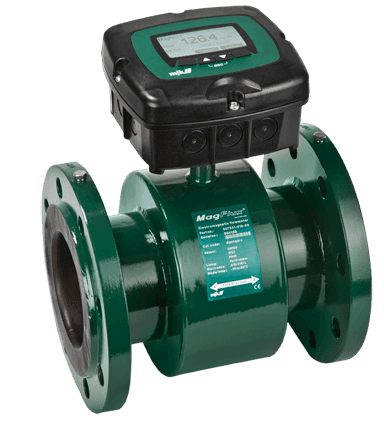 MagFlux™ Electromagnetic Flow Meter
MagFlux® Electromagnetic Flow Meters deliver very stable and highly accurate flow measurements in conductive liquids. MagFlux® Flow Meters have no moving parts to create hydraulic influence on the flow, use a well-proven technology, and communicate using a standard protocol. MagFlux® Flow Sensors are available in sizes ranging from DN 15 to DN 2000, with standard construction lengths and connections. MagFlux® Flow Meters can be installed either with the converter mounted on the flow sensor, on a wall or mounted in a panel.
MagFlux® Flow Meters are used for measuring and totalising flow of conductive liquids in pressurised closed pipe systems. MagFlux® Flow Meters measure flow in both directions of potable water, waste water and process fluids.
MagFlux® 7100 sensor is manufactured with PTFE Liner. The PTFE liner has a low degree of friction, and is chemicals resistant and suitable for high media temperatures.
MagFlux® 7200 sensor is produced with a Hard Rubber Liner. The Hard Rubber liner of the MagFlux 7200 series, is used for general water purpose usage.
The MagFlux® Converter offers two digital outputs and analogue 4-20mA output.
Optionally, Modbus and Profibus RS485 outputs are available.
Features
One graphic Display can operate up to 4 MagFlux® Flowmeters
Intuitive menu structure with easy navigation
Built-in datalogger with the display
Large dynamic measuring range with an accuracy of up to ±0,25%
Two dynamic batch counters and password protection
Counters and pulse output with or without resetModbus® communication is utilized between the display and flow converter and to other external devices
4-20 mA output for flow in one or both directions
Detection of empty pipe
Automatic electrode cleaning
Full bore bi-directional sensor
Specifications
Mounting Flanges (6): EN-1092-1 / ANSI B 16.5 / AWWA C207-01 / AS 4087 / AS2129
Built-in length:

Standard length according to ISO 13359

Accuracy (4):

Better than ± 0,25 %

Ratio:

1:100

Measuring Frequency

1,25-2,5 Hz

Materials
Housing (6):

Carbon steel

Flanges (6):

Carbon steel

Measuring Pipe:

Steel 1.4301 / AISI 304

Lining:

7100 – PTFE (Teflon®)/PFA, 7200 – Hard Rubber

Electrodes (3)(5):

ƒ➄ Steel 1,4571 / AISI 316 TI

Coating:

3 layers Polyurethane paint, Thickness ≥ 310 μm

Temperature range
Medium temperature:

7100 = -20…150 °C / -4…300 °F, 7200 = -10…80 °C / 15…175 °

Ambient temperature: Compact Converter -10…..60 °C / 15..140 °F, Remote Converter 7100 = -20…100 °C / -4…212 °F, 7200 = -10…80 °C / 15…175 °F
Enclosure:

IP 67, NEMA 4, Standard, IP 68, NEMA 6P (10mWc, using the Gel potting kit 579035)

(3) Options: Hastelloy C4, platinium, and titanium. See, Flow sensor Ordering information.

(4) Of measured value.

(5) Incl. built in ground electrode.

(6) Also avalible in Steel 304/316 SS. See, Flow sensor Ordering information.
Converter Specifications
Accuracy: +/- 0,1% of reading
Measuring range: Min. range = 0 – 0,2 m/s – Max. range = 0 – 10 m/s
Fitting: Compact/Wall
Housing: Fibreglass-reinforced polycarbonate
Analog output: One active 4 – 20 mA, galvanically isolated (max. load 800 Ω)
Digital outputs: 2
Communication: MODBUS® RTU-mode, 9600 baud, 2-wire RS 485, slave-mode
Built-in data logger: 360,000 logs and graph view
Power supply: 24 V AC, 50 / 60 Hz ± 10 % or 115 V AC, 50 / 60 Hz ± 10 % or 230 V AC, 50 / 60 Hz ± 10 %
Enclosure rating: IP 67, NEMA 6
Remote display: Up to 1,000m
Documents