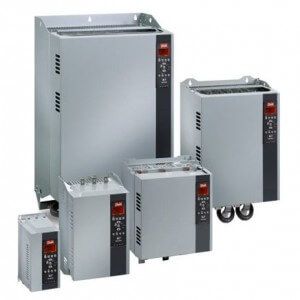 Danfoss VLT® Soft Starter MCD 500
Danfoss VLT® MCD500 Soft Starters allow for control ramping of all AC motors. Upgrading from DOL or non-Semiconductor controlled starter to a Compact Soft Starter reduces mechanical stress on the motor as well as electrical cable and networks stress, extending the lifespan of the system whilst saving energy and giving a smoother start to the motor.
Danfoss VLT® MCD500 series Soft Starter is a total motor starting solution. Current Transformers measure motor current and provide feedback for controlled motor ramp and profiles.
The full range of Danfoss VLT® Soft Starters can be viewed here.
IMPORTANT NOTE: Danfoss is phasing out the MCD500 for the newer model MCD600, please take this into consideration when assessing the needs of your application and the most suitable drive.
Features
Specifications
Documents
Features
Soft Start: Current Limit, Current Ramp, Kickstart, AAC Adaptive Acceleration Control

Soft Stop: Timed voltage ramp, AAC Adaptive Control, DC Brake
Motor Protection: Motor Connection, Power Loss, Phase Loss, Mains Frequency, Current Imbalance, Motor Thermistor, Motor Overload
System Protection: Phase Sequence, Excess Start Time, Undercurrent, Instantaneous Overcurrent, Bypass Relay Overload, Heatsink Temperature
Metering: Current, Motor Temperature, Motor kW, Motor kVA, Motor pf
Control option: Local control panel plus remote inputs / outputs. Dedicated output for MCD LCP 501 Remote Display
Net

work Communication

: Options for DeviceNet, Modbus, Profibus and USB
Bypass:
7.5 to 110 kW Internally Bypassed
132 to 800 kW dedicated terminals for External Bypass Connection
Specifications
Documents