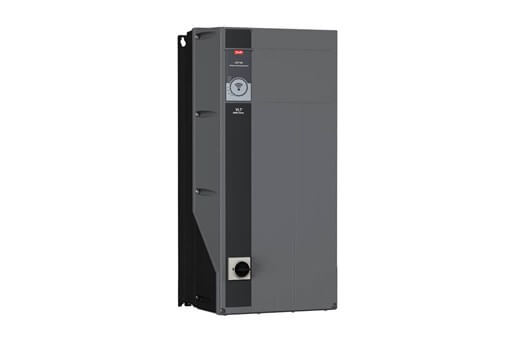 The Danfoss VLT® FC 102 HVAC Drive
Danfoss VLT® FC100 series HVAC Drive is dedicated to ventilation, heating, and refrigeration applications.
With a wide range of powerful standard and optional features dedicated to HVAC applications, the VLT® HVAC Drive provides the lowest overall cost of ownership whilst being the perfect match for pumps, fans and compressors in the modern building that are fitted with increasingly sophisticated solutions.
The full range of Danfoss VLT® Drives can be viewed here.
Features
The VLT® HVAC Drive comes with the following features and benefits specific for HVAC and water applications.
Enclosures IP20 to IP66
Automatic Motor Adaptation, AMA
Automatic Energy Optimization
Energy monitoring
SmartStart
Quick Menu

Dedicated HVAC features Auto tuning of the PI controllers

Free programmable infos, warnings and alerts
Quick Menu

Automated Resonance Monitoring

Fan Belt Monitoring

Fire Override Mode

Set point in temperature

Pipe Fill Mode

End of Pump Curve detects breaks and leakage

Dry Pump Protection lowers maintenance costs

Standard cascade controller

Motor Alternation

Initial/Final Ramp

Safety Option (Safe Stop)
Specifications
Mains supply (L1, L2, L3)
Supply voltage: 200–240 V ±10%, 380–480 V ±10%, 525–600 V ±10%, 525–690 V ±10%
Supply frequency 50/60 Hz
Displacement Power Factor (cos φ) near unity (> 0.98)
Switching on input supply L1, L2, L3 1–2 times/min.
Output data (U, V, W)
Output voltage 0–100% of supply voltage
Switching on output Unlimited
Ramp times 1–3600 sec.
Open/Closed loop 0–1000 Hz
Digital inputs
Programmable digital inputs 6*
Logic PNP or NPN
Voltage level 0–24 VDC
*2 can be used as digital outputs
Pulse inputs
Programmable pulse inputs 2*
Voltage level 0–24 VDC (PNP positive logic)
Pulse input accuracy (0.1–110 kHz)
*Utilize some of the digital inputs
Analogue input
Analogue inputs – 2
Modes Voltage or current
Voltage level 0 V to +10 V (scaleable)
Current level 0/4 to 20 mA (scaleable)
Analogue output
Programmable analogue outputs – 1
Current range at analogue output 0/4–20 mA
Relay outputs
Programmable relay outputs 2 (240 VAC, 2 A and 400 VAC, 2 A)
Fieldbus communication
Standard built-in: FC Protocol, N2 Metasys, FLN Apogee, Modbus RTU, BACnet embedded
Optional: LonWorks (MCA 108), BACnet (MCA 109), DeviceNet (MCA 104), Profi bus (MCA 101
Documents